Free webinar on rearing better heifers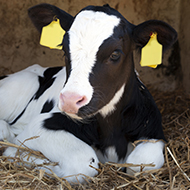 The webinar is run in conjunction with AHDB's 'Great British Calf Week'.
A free webinar is being held by Volac to help dairy farmers rear better heifers. Marking the Agriculture and Horticulture Development Board's (AHDB) 'Great British Calf Week', the webinar is scheduled to take place at 12.15pm - 1.45pm on Thursday 3 February 2022.

Focusing on the management input needed to produce better heifers, the webinar will explore practical tips for better calf rearing, sustainable growth through effective calf nutrition, and the importance of sustainable ingredients in calf milk formulas.

Anyone interested in attending can register here.