RVN raises money for Macmillan with sponsored walk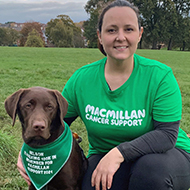 Nicola Tooth is walking 100km over November with her dog Nelson.
Nicola Tooth, an RVN from Cave Veterinary Specialists, has undertaken a challenge to walk 100 kilometres with her dog over the month of November.

Along with her chocolate Labrador Nelson, Nicola is taking part in a walking challenge organised by UK charity Macmillan Cancer Support.

Nicola commented on the challenge: "I have a close relative who has survived breast cancer and I feel strongly about supporting the ongoing research to fight this terrible disease.

"I do love outdoor walking and as long as we can manage at least 3.3k per day, we will be right on target to complete it in the 30 days. I'm pretty confident as that's the sort of daily distance I normally do with Nelson."

The challenge is even more difficult for Nicola, who has mild undifferentiated spondyloarthropathy of the spine, which is a form of arthritis which affects the vertebrae.

"The challenge is to walk 100km with your dog in November and that suits both me and Nelson. Because of my spinal disease I am unable to do any hardcore exercise so this is an ideal challenge for me, something that was little and often throughout November," Nicola said.

"Nelson's only seven months old so little and often exercise is perfect for him too because he's still developing."

Claire Lawrence, Cave's hospital director, added: "Everyone at Cave is super proud of Nicola and Nelson for undertaking this challenge for such a worthy cause."

Donations to support Nicola's fundraiser can be made here.