RVC study reveals insights on strangles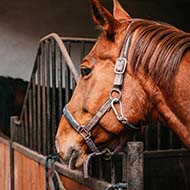 The study increases current understanding of the spread and control of the disease.

The RVC has published its new study analysing the laboratory diagnoses strangles in the veterinary journal, The Veterinary Record.

Strangles is a contagious upper respiratory tract infections caused by Streptococcus equi, and affects horses, ponies and donkeys. The RVC's study aims to improve understanding of the spread and control of strangles, in order reduce its impact.

Funded by The Horse Trust, the study saw researchers analyse data from seven UK diagnostic laboratories between January 2015 and December 2019.

Over the period studied, there were 1,617 laboratory diagnoses of strangles, with a higher number estimated when the number of potentially undiagnosed horses is taken into account.

Findings of the study could help guide veterinary surgeons in the UK in their approach to disease diagnosis, including not ruling out a diagnosis of strangles when a horse or pony presents with more general signs of nasal discharge. The study also discovered that the description of 'classical' and 'atypical' clinical signs should be revised.

Abigail McGlennon, PhD student at the RVC, said: "Prior to the development of the Surveillance of Equine Strangles network in 2018, there was limited information available about strangles diagnoses in the UK.

"This publication highlights the prevalence of strangles in the UK and the variation in signs that infected horses show.

"The results of this five year surveillance study enable the continued development of evidence-based recommendations within the equine industry to help reduce the spread of strangles and keep our horses healthy and happy."

Director of research and policy at The Horse Trust, Jan Rogers, added: "The Horse Trust is delighted to have enabled this research, carried out by the combined expertise of the scientists involved, which has enabled the foundation of a surveillance network and highlighted key factors which can quickly be acted on by owners in order to be able to identify strangles and reduce the spread of this horrible disease.

"The work of these scientists fundamentally underpins the need for equine identification to become digitally based to enable accurate disease surveillance in the interests of horse wellbeing."

Alongside the insights into the diagnosis and clinical features of strangles in UK horses, the study has also provided a resource for horse owners – an online tool which identifies in strangles outbreaks have occurred in a certain area or region, encouraging owners to stay informed and increase their biosecurity and hygiene protocols, helping to reduce the spread of strangles.