RCVS MMI to hold student VN wellbeing forum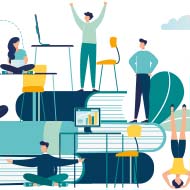 The RCVS is encouraging students, newly qualified RVNs and clinical coaches to attend.

The RCVS Mind Matters Initiative (MMI) has announced that it will host a virtual discussion forum to discuss the wellbeing of student veterinary nurses and recently qualified RVNs.

Taking place on Zoom on 3 November 2021, from 10am to 3.15pm, the forum will offer the opportunity to discuss the issues of bullying, incivility, stress and lack of mental health support which can affect student and new veterinary nurses disproportionately in the veterinary workplace.

Key topics discussed at the forum will be the Mind Matters Initiative, incivility and bullying, juggling demands and balancing study, work and life, raising awareness and encouraging pride in the veterinary nursing profession, and disability and chronic illness.

RCVS director for advancement of the professions, and Mind Matters director, Angharad Belcher, said: "Holding the Student Veterinary Nurse Wellbeing Discussion Forum is one of the first steps in talking through the survey findings and working collaboratively with the veterinary nursing profession to discuss potential solutions and actions we can take.

"Having a range of voices and experiences present throughout the day will be key to generating constructive and forward-thinking discussions.
"If you have an experience that you want to share or ideas for how the profession could better support the wellbeing of veterinary nurses, then I would encourage you to register for and attend the forum."

Jill MacDonald RVN, VN Futures Project Coordinator, commented on the upcoming event: "We have put together a varied and engaging programme for the Forum, which we are sure will provoke thoughtful discussions throughout the day.

"As part of the programme, we have Angharad Belcher and Lisa Quigley from the Mind Matters Initiative giving an overview of MMI and the results of their recent survey, Dr Claire Hodgson MRCVS, Alexandra Taylor RVN and Jane Davidson RVN leading the session on disability and chronic illness, Simon Flemming, a Trauma and Orthopaedic registrar, who will be heading a talk on incivility and bullying and myself and Dr Laura Woodward MRCVS will lead a session on raising awareness and encouraging pride in the veterinary nursing profession.

"Jane Davidson RVN will also be taking the lead on another talk, where she'll be discussing balancing study, work, and personal life.
"After each talk, there will be time to reflect on the topics in the facilitator-supported discussion groups, and we are very much looking forward to having the opportunity for student and registered veterinary nurses to help shape the future of wellbeing issues in their profession."

Those wishing to attend can register on the Eventbrite page, or email info@mindmatters.org to find out more information about the event.