Government to debate animal testing petition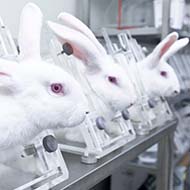 The petition has garnered over 235,000 signatures.
The UK Government is set to debate a petition entitled, 'Ban Animal Testing – Fund, accept & promote alternatives to animal testing' on Monday 18 October.

E-petition 581641, which has accumulated over 235,000 signatures, states: "We would like the Government to ban all animal testing UK, including for the development of cosmetics, household products and medicines.

"Alternatives need to be actively funded. Many products that are tested on animals end up not being suitable for humans. Animal testing is outmoded and should end."

Martyn Day, a member of the Petitions Committee, will open the debate and Minister for Science, Research and Innovation, George Freeman, will respond on the Government's behalf.

In a response to the petition, the Government commented: "Scientific research using animals is vital in understanding how biological systems work in health and disease. Government oversees development of 3Rs techniques and delivery of robust regulation.

"The use of animals in science supports the development of new medicines and cutting-edge medical technologies, for humans and animals, and the safety and sustainability of our environment.

"However, animals must only be used where there is no alternative. This is achieved through robust regulation, and support/funding for non- animal alternatives.

"In the UK, no animal testing may be conducted except for a permissible purpose enshrined in law. These purposes include to: assess the safety of medicines or chemicals; protect the environment; allow the development of medicines; and conduct basic scientific research to understand how biological systems and processes work.

"Under UK law no animal testing may be conducted if there is a non-animal alternative available. The use of animals in such testing is strictly limited to that necessary to achieve the scientific benefits."

Lasting for 90 minutes, the debate will allow MPs to question the Government directly on the issue. The debate will take place at 6.00pm in Westminster Hall, and will be available to watch on Parliament TV and YouTube.