Vet MP calls for swift action on pig crisis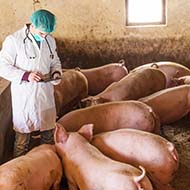 "I know first-hand how distressing this is for farmers, vets and slaughter workers alike" – Dr Neil Hudson.

Veterinary surgeon and Penrith MP Dr Neil Hudson has written to the British Government calling for urgent action to prevent the slaughter of healthy pigs.

In a statement, Dr Hudson says: "As a veterinary surgeon during the Foot and Mouth crisis, I supervised the culling of many animals on farm for disposal and thus which were not going into the food supply chain.
"I know first-hand how distressing this is for farmers, vets and slaughter workers alike. We must avoid this at all costs for animal and human welfare reasons and also to avoid significant and senseless waste of good quality food."

He added: "I am making representations to Government on this and have written to the Prime Minister, Home Secretary and the DEFRA Secretary. I am urging the Home Office and DEFRA to work closely together to take measures to allow sufficient meat processing and related workers into the sector by amending visa requirements and English Language Requirements."

On Wednesday (6 October) the National Pig Association confirmed that culling had already begun at handful of British farms, with chief executive Zoe Davies stating: "There has been no mass culling yet – although I do believe this is the next stage in the process. As you can imagine this is hugely difficult for the farmers involved and to date none are willing to speak to the press about it."

The backlog of pigs has been blamed on several related factors, including staff shortages at abattoirs, Brexit and COVID-19.

Dr Hudson's statement continued: "On the Commons EFRA Committee, on which I sit, our most recent report, 'Movement of Animals Across Borders', we identified the importance of monitoring and maintaining UK veterinary capacity which currently is below what we need as a country.
"In addition we highlighted the importance of supporting and bolstering the abattoir network in the UK which is under strain and vital for our national food security. The Government needs to act quickly to avert this animal welfare emergency and put measures in place to mitigate against it happening again."