Engaging clients in One Welfare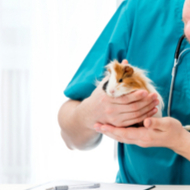 Dr Anne McBride speaks on encouraging clients in conservation and One Welfare through their own small pets.
Clinical animal behaviourist Dr Anne McBride led a lecture on small pets, sustainability and One Welfare on the first day of BVNA Congress (2 October), with a whistle-stop presentation on the role of small animals in One Welfare, and how the psychology field of human behaviour can be used to elicit greater concern for small pets and their wild relatives.

Anne posed ethical questions to delegates, including 'should we keep small pets?' and 'is the way we treat small wild animals okay?' - all for the purpose of reaching the lecture's take home message – that veterinary professionals should be engaging clients in One Welfare.

Beginning by outlining the benefits of small animals, including owner benefits such as self identity and social capital, medical and surgical advancements through lab animals, and ecological and economic benefits, Anne discussed the myriad types of importance that small animals hold, and why we should care about them from a One Welfare perspective.

Anne discussed the negative perception of wild small animals, particularly mice and rats – explaining how this allows us to abuse them, owing to human's disgust and 'othering' of small animals not in a cage.

She stressed the unethical nature of mice and rat traps that use poison or glue, and that even 'humane' capture and release traps cause suffering for the animal, and suggested that fast-killing traps are the most humane kind.

Anne explained that one in four British mammals are currently threatened with extinction, and then firmly situated this issue within the veterinary world, posing the question: "How can we use our love of our pets to help move things forward?

"Because if we're talking about sustainability, the welfare of the animals we keep, and those outside are intrinsically and inextricably, irrefutably interconnected with our human wellbeing, and the environment's wellbeing. If one fails, they all fail."

According to Anne, the interconnected nature of human wellbeing, pet wellbeing and wild animal wellbeing should be a concern of veterinary professionals – if veterinary professionals can encourage clients to look beyond their individual pet, they can encourage and educate clients to use their own pets to understand One Welfare and conservation.

Anne explained that the COM-B model of behaviour change could be a useful tool for veterinary nurses to help implement a One Welfare approach in clients. The COM-B model stands for capability, opportunity, motivation and behaviour.

In using this approach, Anne believes that veterinary professionals can change client's behaviour, improve the welfare of their animals, consider appropriate species to keep in future, and motivate change and consideration for small animals in the wild.

Some ways of implementing this include:

• Extending knowledge through information of the client's pet and relating it to conservation.
• Encouraging clients to care for their small pet properly, including enrichment and engagement with their pets.
• Holding a practice 'competition' with pet enclosure and accommodation photos, and rewarding those with welfare-friendly setups.
• Encouraging humane pest control and education on pest control, particularly regarding cats and wildlife.

Summarising her lecture, Anne explained that small mammals play a significant role in the sustainability of humans, as pets, in human health, in the health of other pets, and the environment – and encouraged delegates to consider a One Welfare approach in practice to encourage clients to: "think beyond their individual animal."