Nominations open for Young Dairy Vet of the Year 2022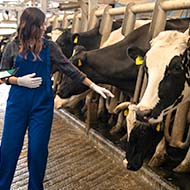 The achievement is sponsored by Krka as part of the CREAM Awards.
Nominations have now opened for the 2022 'Young Dairy Vet of the Year' Award, a recent addition to the Dairy Industry Trade Awards (the CREAM Awards).

The CREAM Awards, run by British Dairying magazine, celebrate the achievements of the UK dairy industry, and highlights leaders and innovators within the dairy professions.

Introduced in 2020, the Young Dairy Vet of the Year Award celebrates and recognises a farm vet who has been working in the industry for three to five years and has made a significant impact on the health and wellbeing of herds under their care.

The Award's previous recipient, Rob Hall, veterinary surgeon at LLM Farm Vets in Shropshire, commented on the dairy industry and his achievement: "The sustainability of the dairy industry will remain in the spotlight for decades to come with young vets in a great position to work with dairy farmers of the future to improve the efficiency of their herds.

"As vets start their post-university careers, they face a steep learning curve. Dairy vets, in particular, have a huge arsenal of practical skills to hone, as well as trying to forge relationships with farmers and colleagues.

"It can be tricky to strike the right balance, while finding time to pursue their own interests to keep work interesting.

"I'm extremely grateful to The Cream Awards for recognising this and to KRKA for its support of the Young Dairy Vet Award."

Sponsors of the Award, Krka, commented: "Krka is proud to support the recognition of rising stars within the dairy veterinary profession and hope that their achievements will inspire many of the next generation of veterinary surgeons to embrace the rewarding life of the farm vet."

Entries can be made either by farmer nomination or self entry, and more information about the criteria for the Award and how to apply can be found here.

For advice or assistance with entries please call 01892 231604 or email caroline@calderwood.cc - the closing date for entries is 31 May 2022.