New slimming club for horses launched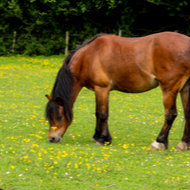 The initiative is run by Redwings and Spillers.
A new slimming club has been launched to help owners of overweight horses and ponies support their pet to get them to a healthy weight.

Run by Spillers, and supported by Redwings Horse Sanctuary, the initiative is hoped to help horse owners recognise the dangers to welfare of an overweight horse.

Clare Barfoot, registered nutritionist and development director at Mars Horsecare UK, commented on the issue of overweight horses: "Some horse and ponies simply appear to get fat on thin air.

"Reduced exercise and less rigorous management regimes due to COVID-19 restrictions haven't helped and we are perhaps becoming guilty of normalising overweight horses.

"We all need to work together to tackle the problem, for the future health and welfare of our horses."

The slimming club will provide horse owners with information and advice including tips to help their horse lose weight, explanations on to body condition score and use a weigh tape, diet plan advice and weight loss records.

Redwings is also working to support the initiative, sharing literature on helping horses to keep a healthy weight to those who take on a Redwings horse or pony, and will also be sharing tips and answering practical management questions on the Facebook page set up for the slimmers club.

Horse and pony owners can join the slimmers club here.