Commercial import of dogs rises by 75 per cent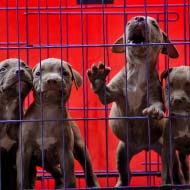 The RSPCA is urging the Government to crackdown on the issue.

A crackdown on puppy smuggling 'can't come soon enough', says the RSPCA, after government figures released this week show a 75 per cent increase in commercial imports of dogs.

In response to a question to Defra, the UK Government has revealed that the number of dogs imported commercially between January and August 2021 was 54,615 – a 75 per cent increase from the previous year's 31,138.

Commenting on the new statistics, RSPCA chief executive Chris Sherwood said: "We saw a big rise last year, with the number of dogs imported for commercial reasons jumping by 52 per cent from 2019 to 2020 as the demand for dogs surged during lockdown.

"Now, as many people remain working at home, the demand for dogs has continued and we've seen another big spike in commercial imports.

"What's particularly concerning is that these figures only account for the number of dogs being brought into the UK legally; this is probably just the tip of the iceberg.

"The reality is that there are likely tens of thousands more puppies who are being smuggled into the UK to be sold on the black market."

Outlining plans following the RSPCA's #ForPupsSake campaign, the Government intends to increase the age that puppies can be imported from 15 to 24 weeks, alongside blocking the importation of dogs with cropped ears and docked tails.

The Government has also outlined plans to block the importation of heavily pregnant bitches.

"This is why we're welcoming the Government's Action Plan for Animal Welfare, which has pledged to crackdown on puppy imports, and we'd urge them to bring in new regulations and tougher enforcement as quickly as possible," Chris added.
"There are dogs and puppies suffering right now and we want to help them."