New BEVA president to be welcomed at Congress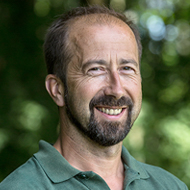 Huw Griffiths has pledged to champion equine vets.
Huw Griffiths, incoming president of the British Equine Veterinary Association (BEVA), has pledged to champion equine vets and improve their working lives during his term in office.

The incoming president and clinical director at Liphook Equine Hospital will be presented with his presidential chains of office in a ceremony held at the annual BEVA Congress on Monday 6 September 2021.

Commenting on his upcoming appointment as president, Huw said: "My mission statement is championing the equine vet and I want to put an infrastructure in place to help vets be the very best they can be. This will ultimately benefit the welfare of the horse, which is the key aim of BEVA.

"My main focus will be the vets who are at the very centre of the industry, the ambulatory vets who are, day-to-day, going out to visit owners and their horses and building and maintaining relationships and trust between clients and their equine practice.

"If you have a healthier, happier vet, the level of care for the horse will be increased."

Huw has also said that he hopes to mobilise his presidency to encourage more people to pursue a veterinary career, and to reduce the amount of veterinary professionals leaving the industry. He commented: "Being a vet is a great profession and an amazing way of life and during my presidency I am keen to promote this.

"The wellbeing of vets is also very important to me, and I want to support those who are going through a chapter where they are finding it a less rewarding job and help them find a new path within our profession rather than outside it."

Graduating from the University of Liverpool in 2000, Huw joined Liphook Equine Hospital in Hampshire in 2004, and became the hospital's clinical director in 2018. He has a particular interest in sport horse breeding, and holds a certificate in Equine Stud Medicine.

This presidential appointment is not Huw's first experience with the BEVA council, he has been a BEVA council member for six years, and has served on the breeding and reproduction committee. He has also chaired the clinical practice committee and the AI discussion forum.

Huw takes over the role from outgoing president Lucy Grieve, who will continue to contribute to the BEVA council for the next year as senior vice president.