Dog vaccination for rabies essential for preventing spread to humans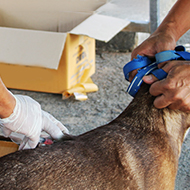 A coordinated and sustain programme of dog vaccination is the key to prevention, study suggests.
A study led by the University of Glasgow, published today (1 September) in Applied Ecology, has found that rabies frequency in both domestic dogs and humans decreased during a period of sustained dog vaccination in southeast Tanzania, despite ongoing wildlife rabies infections.

The researchers found that after mass dog vaccination ended in Tanzania in 2017, the area saw a rise in rabies cases once again.

Working in collaboration with Ifkara Health Institute and Imperial College London, the researchers at the University of Glasgow investigated the dynamics of transmission of rabies in Tanzania, in an area where jackals made up more than 40 per cent of reported animal rabies cases.

Studying across a nine-year period, hospital records were used to identify people potentially exposed to rabies, and then these people were interviewed to determine if the biting animal was rabid.

During the nine-year study period, it was found that throughout the period of dog vaccinations, cases dropped from a high of 218 in 2011, to just 15 in 2017.

Senior author of the study, Professor Katie Hampson, commented: "Our findings confirm that, even in areas where wildlife rabies cases are high, focusing on domestic dog vaccination will have major public health benefits.

"Moreover, if sustained and coordinated a dog vaccination programme has the potential to eliminate rabies from circulating even in these areas despite the presence of wildlife transmission."

Sarah Hayes, co-author from Imperial College London added: "It is critical that there is continued investment in domestic dog vaccination and this work suggests that the presence of rabies within wildlife populations should not be a barrier to implementing these programmes."