Cat study provides insight into dementia progress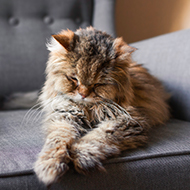 The study found parallels in the development of cognitive disease in both cats and humans.
The University of Edinburgh Royal (Dick) School of Veterinary Studies, alongside the University of California, has found that key proteins linked to cognitive disease are found in similar ways in both cats and humans.

This new research demonstrates that the development of feline cognitive dysfunction syndrome (CDS) functions similarly to dementia in several ways.

It is hoped that these findings will support fast diagnosis and treatment of cognitive disease in cats and humans, as they assist in understanding the indicators of the disease.

In the study, researchers aimed to understand how beta-amyloid and tau, two key proteins, develop in cats of all ages, and how they relate to the development of CDS.

The research ultimately found that the accumulation of tau proteins, and the region in the brain in which this occurs, are key indicators of the progress of dementia in cats, and that the clinical signs developed in feline CDS are similar to that of human Alzheimers disease.

Published in Frontiers in Aging, the study is available to read here.