Scholarship programme for Equine Research launched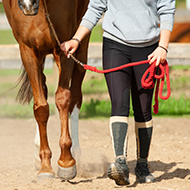 The new transnational equine research scholarship is to be held at the RVC and Penn Vet.

The RVC, University of Pennsylvania's School of Veterinary Medicine (Penn Vet), and MARS EQUESTRIAN, have jointly launched a new international scholarship programme in equine research.

Undertaken over the course of two years, in both England and the USA, the programme offers one aspiring veterinary investigator the opportunity to conduct equine research alongside internationally-renowned experts in the field.

The programme allows the recipient to gain two advanced credentials whilst conducting their research, the Graduate Certificate in Animal Welfare and Behaviour, taken at Penn Vet in the first year of the course, and the Master of Research (Mres) Program at the RVC in the second year.

Interim vice principal for research at the RVC, Professor Richard Bomphrey, commented on the collaboration: "I am delighted that the RVC is able to support this new transatlantic initiative for veterinary graduates following a generous donation from MARS EQUESTRIAN.

"It strengthens the ties between the RVC, the University of Pennsylvania and MARS EQUESTRIAN while providing an outstanding training and research opportunity. We look forward to welcoming the successful scholar and helping them to make an impact in equine research."

Dr Kyla Ortved, researcher at Penn Vet and primary mentor for the programme's research project, said: "There are two fundamental components to a successful career in the veterinary medicine field: exceptional mentorship and the continuous pursuit of applicable knowledge.
"The multidisciplinary approach of the MARS EQUESTRIAN Veterinary Research Scholar Programme is set to provide both of these cardinal elements through an experiential learning environment that will ultimately culminate in delivering meaningful advancements that will have a very real, positive impact on the lives our equine partners."

Dr Bridgett McIntosh, MARS EQUESTRIAN's director, added: "MARS EQUESTRIAN is thrilled to support this truly unique and innovative international program unlike anything else offered in veterinary medicine training.

"Our goal is to continue to drive the field forward in creating a better world for horses by engaging and training the next generation of veterinarians."

The programme is open to applicants from the UK and US, and also international candidates. Applicants must already hold a veterinary degree (DVM/VMD/BVSc or equivalent) upon applying. Commencing in September 2021, the chosen applicant will receive an annual stipend, tuition, and travel expenses.

The deadline for applications is today (30 June), or until an acceptable candidate is found. Applications should be sent to Penn Vet's Dr Kyla Ortved at kortved@vet.upenn.edu