BSAVA publishes new end-of-life collection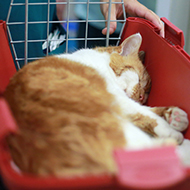 Resources cover euthanasia decision-making and how to support clients.
The BSAVA has published a new collection of resources focusing on end-of-life care and decision-making, designed to help support both clients and the veterinary practice team.

Using information gathered from BSAVA manuals, articles from Companion, webinars and congress lectures, the collection is split into four key areas: general information, client communication, client support and practitioner support.

Some highlights include:

euthanasia decision-making: a case-based discussion
how to discuss euthanasia with your client
quality of life and decision-making around end of life care
the client journey: supporting the client before and after the last appointment
euthanasia and how it affects veterinary nurses' mental health
euthanasia support in practice.

Julian Hoad, chair of the BSAVA Publications Committee, commented: "Death and taxes are the only two certainties of life, according to Benjamin Franklin.

"Our pets don't have the worry of taxation, but managing the end of life for them is something that all owners must face. It is probably the most challenging part of our veterinary work also – managing the emotional, sometimes highly charged, aspect of the situation whilst maintaining an objective focus on the patient.

"This new collection provides a handy resource for this important area of veterinary practice. The collection will enable the recent graduate to gain confidence in dealing with these cases; tips for improvement that even the more experienced clinician will find useful are also included."

The collection is £20.00 for BSAVA members and £45.00 for non-members and is available via the BSAVA Library.