Johnson's celebrates 100 years in business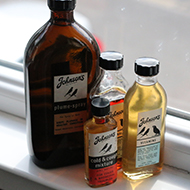 Stockists invited to host in-store pop-up parties.

One of the UK's leading providers of pet healthcare products is celebrating 100 years in business with an array of special events to highlight the role of local pet shops in animal owners' lives.

Johnson's Veterinary Products was founded by the Johnson Family in 1921 in West Bromwich. Originally selling a handful of products dedicated to poultry health and wellbeing, the firm now has a vast range of products dedicated to dogs, cats, rabbits and small animals.

To kickstart its centenary celebrations on 31 July, Johnson's is inviting its stockists to host in-store popup parties, with thousands of pounds of Red Letter Day prizes being awarded to the most creative.
The firm will also be donating a proportion of all profits made on the day to its five chosen charities: Hounds for Heroes; Dogs for Good; Fat Fluffs, Woodgreen and Fur Babies Cat Rescue.

Chairman David Johnson, grandson of founder Arthur Johnson, praised pet shops for their critical role during the COVID-19 pandemic and the care they provided to the increasing number of people taking on pets.

"We believe it's important to give something back to the businesses that have stood by us for all these years, which is why we are holding a competition to see which pet stores create the best window or in-store display in support of Johnson's," he said.
"We recognise the importance of pet owners shopping local and talking with knowledgeable, qualified people at the stores they know and have grown to trust. So with the country starting to take the first tentative steps to recovery, the timing is ideal for pet owners to hopefully get out, support their local store and come to join in the celebrations with us."