Dogs Trust marks 1,500 smuggled puppies rescued through Puppy Pilot Scheme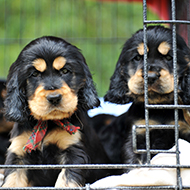 Charity calls for legislative changes as it reaches milestone.

Dogs Trust is calling on the government to take urgent action to tackle puppy smuggling as it marks the milestone of 1,500 smuggled puppies rescued and rehomed through its Puppy Pilot scheme.
Originally set up in 2015, the Puppy Pilot Scheme works with APHA in the interception of illegally imported puppies at ports. It also provides care and rehabilitation for the animals prior to finding them new homes.
In 2020, Dogs Trust saw a 66 per cent increase in dogs rescued through the scheme, compared to the previous year. The legal age for puppies to enter the country is 15 weeks from another EU country, but the average age of puppies seized in 2020 was around eight weeks, with some aged just four weeks old.
Paula Boyden, veterinary director at Dogs Trust, said: "The 1500th puppy rehomed through the Puppy Pilot is a bittersweet milestone for us to reach. The scheme was originally set up on a trial basis in 2015, because there were not sufficient resources to care for the puppies being seized at the border.
"Five years on the need for our services is greater than ever as the demand for dogs during lockdown has further exacerbated the problem and, unfortunately, we know that the dogs we care for are just a small proportion of those that make it into the country illegally.
She continued: "We held our first conference with relevant stakeholders, Defra and APHA representatives to highlight our concerns about the illegal importation of puppies over eight years ago, and our asks remain the same.
"Now that the UK has left the EU, there has never been a better time for the Government to raise the minimum age for puppies to be imported into the UK to six months to help make them less desirable.
"We also want to see tougher penalties for smugglers, as only a handful of cases have ever led to a prosecution, with paltry penalties that are no deterrent."
Alongside calls for legislative change, Dogs Trust is also urging prospective puppy buyers to be vigilant and follow its advice when looking for a pet.