RCVS Mind Matters Initiative gives funding boost to Vetlife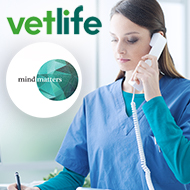 Support service for vets sees busiest year on record.

The RCVS Mind Matters Initiative has provided additional funding for Vetlife, the support service for the veterinary profession, following a rapid increase in demand for the service during the pandemic.
Last year was the busiest year on record for Vetlife. Its helpline received a 25 per cent increase in calls, totalling 3,921 contacts compared to 3,117 in 2019. A number of these calls were related to the COVID-19 pandemic.
Similarly, Vetlife's Health Support service saw a sharp increase in referrals compared to 2019, showing the significant impact that the pandemic is having on the veterinary profession.
The RCVS Mind Matters Initiative (MMI) has pledged an additional £20,000 in funding to the Vetlife Health Support service, on top of its annual donation of £100,000, to help bolster the support it offers during a time when decreased income is putting a strain on the charity.
Katie Moore, chair of Vetlife Health Support and Vetlife Helpline, said: "COVID-19 has had far reaching impacts on everyone and Vetlife, as a support resource for the veterinary profession, is fielding rising numbers of calls to its Helpline.
"The additional funds from the Mind Matters Initiative will have a direct positive effect on our operational capacity and the ability Vetlife has to refer increasing numbers of veterinary professionals in need of additional support to our Health Support service."
Susan Dawson, chair of the Mind Matters Initiative, said: "In recognition of the fact that this has been a very difficult 12 months for the professions, we are delighted that the Mind Matters Initiative has been able to make a substantial addition to the £100,000 we already provide to the Health Support Service on an annual basis.
"Vetlife and its volunteers provide an essential service to members of the veterinary team in need of emotional, health and financial support and it is needed now more than ever."