Award-winning wildlife photojournalist joins panel for annual BVA photo competition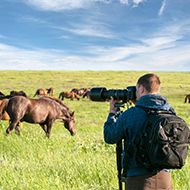 Aaron Gekoski named fifth judge on panel for popular award.

The British Veterinary Association (BVA) have announced that Aaron Gekoski, an internationally acclaimed environmental photojournalist, will join the judging panel for the 2021 BVA Veterinary Photographer of the Year Award.
Mr Gekoski has won multiple photography awards and his images have appeared in hundreds of publications. He recently published a book of photos documenting human-animal conflict across the world titled Animosity: Human-Animal Conflict in the 21st Century.
He will be the fifth judge on the panel, which already consists of BVA president James Russell, senior vice president of the Association of Veterinary Students (AVS) Izzie Arthur, and judges nominated by the competition sponsor iM3 Veterinary Dentistry.
Aaron Gekoski commented: "It's a huge honour to be a judge for the BVA Veterinary Photographer of the Year Award, the most prestigious photographic competition for the veterinary profession.
"The competition helps shine a light on the invaluable and relentless work carried out by vets around the world; work that may otherwise go unnoticed. I look forward to bringing my experience as an environmental photojournalist to the judging process."
The awards are split into three categories including:
Life in Lockdown – Images that reflect the extraordinary circumstances we were all thrust into during the COVID-19 pandemic

All creatures great and small – A look at the vast diversity of the animal kingdom, including domestic, agricultural, and all aspects of wildlife

Happy pets that make us smile – Reflecting the joy of a happy, contented animal.
Photos can be taken using a mobile phone or high-spec camera and submissions close at 11.59pm on 8 March, with winners to be announced in April.
To find out more please visit the BVA website.