Vet scoops Livestock Advisor of the Year Award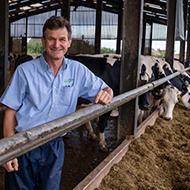 Julian Allen recognised for going the extra mile to support his clients.

Veterinary surgeon Julian Allen has been named winner of the 2020 Farmers Weekly Livestock Advisor of the Year Award.

Julian, who is a director of Friars Moor Livestock Health, received the honour in recognition of his dedication, enthusiasm and for going above and beyond to support his clients.

During his 26 years at Friars Moor, Julian has made a considerable difference to the operations of livestock farmers, helping one large Dorset dairy farm reduce its antibiotic usage by two thirds over eight years. With a focus on dairy cow health, his interests include nutrition and benchmarking herd performance.

Commenting on his achievement, Julian said: "I was honoured to be named Livestock Adviser of the Year. This work is my passion – I love working together with farmers, getting involved in all aspects of herd management and thinking through different options to improve herd health and productivity."

Friars Moor forms part of the independent veterinary group, XLVets. Runners up for the award included veterinary surgeon Ed Hill, who also hails from XLVets, and Phil Baynes, managing director of Bayes Nutrition.

Alice Renner, farm marketing executive of XLVets, commented: "We were so pleased to hear of these awards going to such hard-working and deserving people. And it's a great accolade for our members – reflecting how XLVets practices strive for clinical excellence and really get invested in the success of their clients.

"We see the collaborative strength of the community every day in the way knowledge is shared to achieve the best outcomes for everyone's clients, it is fantastic to see this celebrated publicly within the farming community at large."
Image (C) XLVets.