Europe's first dedicated biobank stores cells from endangered animals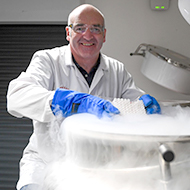 Charity launched in response to dramatic decline in global biodiversity

A 'ground-breaking' new charity inspired by advanced equine reproduction technology has been launched with the goal of preserving endangered species.
Nature's SAFE is Europe's first 'living biobank'. It will process and store skin and reproductive cells from endangered species, which can then be used in regeneration of animals and restoration of species.
Founder Tullis Matson – who is also managing director of Stallion AI Services, a UK based centre of excellence for equine reproduction – realised that the same techniques developed for equines could be used in conservation by storing live cells from endangered species.
"To be able to use 30 years of experience in equine reproduction and equine rare breed preservation for an even greater good is a real privilege," said Mr Matson.
"It is an honour to be working with some of the world's most endangered species and knowing that we are saving such important animals is indescribable."
The charity uses a specialised processing technique, freezing the skin cells of threatened species at a temperature of -196°C. They are then preserved in a dormant state and can be kept indefinitely and once thawed they can be used in animal artificial reproduction programmes.
Nature's SAFE will also store ovarian and testicular tissue from endangered animals, and it plans to develop new techniques to generate sperm and egg cells from reproductive tissue.
Dr Sue Walker, Nature's SAFE co-Founder and vice chair, head of science at Chester Zoo, chair of the EAZA Reproductive Management Group and Board Member of the EAZA Biobank said: "The cryopreservation of reproductive cells and cell lines will be an important tool for population breeding programmes and the restoration of genetic diversity in animal species threatened with extinction.
"Having a facility solely dedicated to preserving these samples, Nature's SAFE is a vital tool missing from the European zoo conservation toolbox."
Nature's SAFE has already successfully stored live cells from multiple endangered species through collaboration with their partners in the national zoo association. These species include the black rhino, Asian elephant, eastern bongo and Javan green magpie.
For more information on Nature's SAFE, or to support it's work, please visit https://www.natures-safe.com
Image (c) Nature's SAFE.