SRUC invests in new Aberdeen equine centre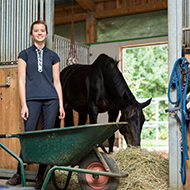 New centre to be completed by end of summer

Scotland's Rural College (SRUC) is working on a new centre for equine skills at its Craibstone campus in Aberdeen, which will provide new opportunities for students to learn practical skills.
The College is investing £310,000 into creating new stables for up to six horses, a ménage, equipment storage and supporting facilities for students at the centre. It will seek planning permission for the work in the next few months.
SRUC expects that most of the centre will be completed by the end of the summer, ahead of the arrival of the first cohort of students on the HNC and HND Equine Studies courses at Craibstone. The ménage is expected to be completed in the autumn.
The new HNC course offers practical experience and teaches students about horse care and riding, while the HND course provides more experience and knowledge of management within the equine industry.
The new equine centre will also supply extra opportunities for students on SRUC's Animal Care course.
Education at the new centre will complement the practical training provided by Aberdeen Riding Club through its partnership with SRUC.
Caroline Argo, dean of SRUC's North Faculty, said: "Horse husbandry, training and business management skills are in high demand. We're delighted to be able to offer more opportunities for students to help them enter and flourish within the equine industry.
"We're looking forward to our role as an integral part of the equine community across the North of Scotland."