APHA locum support for export certificates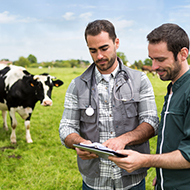 Deployment will be available for up to seven days.

Veterinary providers can now request temporary locum support from the APHA if they are struggling to meet the demands for export health certificates (EHC).

Since January 1, exporters of live animals and products of animal origin must have an export health certificate (EHC) to enter the EU or to transit through an EU country. An Official Vet (OV) or local authority inspector is required to inspect the consignment and sign the EHC in the days before the export.

A notice from the Animal and Plant Health Agency (APHA) on Tuesday (5 January) sets out what veterinary providers can do if they cannot meet the demand. It makes clear that to escalate a case, veterinary providers should contact certificationcapacity@apha.gov.uk with their contact details.

The provider will then receive a form within one working day asking for an overview of the product type, its destination and any other good transiting through. APHA will then assess the availability of its surge resource and aims to complete this process within two working days.

APHA states that support will be available across the UK, 'subject to available resource and competing priorities'. To be considered, the veterinary provider must be able to provide clear evidence of a significant demand for EHC services and/or significant reduction in certifier supply, such as staff absence.

Initially, the deployments will last for a maximum of seven days and veterinary provider will be expected to pay for the OV's time as per the agreement with the APHA certification capacity team.
Deployed staff will have their transport and phone, but other requirements such as laptop and printers may need to be met by the certification provider, the APHA said.