Blue Cross survey reveals concerns about impact of fireworks on horses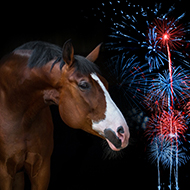 Charity asks public not to let off fireworks this New Year

Blue Cross is urging people to forgo private firework displays for New Year's Eve this year, after a survey conducted by the charity revealed high levels of concern among horse owners regarding the effect of fireworks on horses.
The survey was carried out in early December. It showed that 69 per cent of horse owners are extremely concerned about the welfare of their animals this winter. Many reported difficulties in predicting when fireworks would be let off, making it difficult to plan accordingly.
Preparations that horse owners made in anticipation of firework displays included putting the animal into a stable early, playing music, distracting it with food and in some cases using prescribed medication and herbal remedies.
Despite these efforts 35 per cent of owners reported accidents as a direct result of fireworks. Several said that these accidents resulted in the animal having to be euthanised.
The survey also polled pet owners, finding that 70 per cent were concerned for their dog or cat's welfare during fireworks season.
Gemma Taylor, Blue Cross education officer, said: "These results have laid bare the extent of suffering so many of the nation's horses go through for days and weeks at a time every single year.
"That's why we are pleading with people to think about their own actions this New Year's Eve and consider ditching setting off loud fireworks, which leave many horses literally shaking in fear, for other celebrations.
"We know at Blue Cross just how upsetting this time of year can be for animals – especially now we are seeing more and more people doing their own fireworks in their back gardens and private fields. Let's all do our bit to help make this fear a thing of the past."
The charity has produced a series of posters to help spread awareness about the negative impact of fireworks on pets. These can be downloaded on the Blue Cross website.