Vets urge 'I'm a Celebrity' producers to review the show's treatment of animals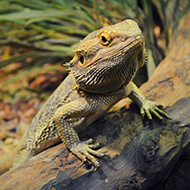 BVA raises concerns over use of animals for entertainment

The British Veterinary Association (BVA) has expressed serious concerns over the use of animals in the television programme 'I'm a Celebrity Get Me Out of Here!', which entered its twentieth series earlier this month.
Since the show began in 2002, 'I'm a Celebrity Get Me Out of Here!' has received criticism from animal welfare organisations and the general public regarding its mistreatment of animals, particularly during the 'Bushtucker trial' segments of the programme.
The BVA published an open letter to the show's producers in 2019, citing examples from the programme where animals were in clear distress and compliance with the 2006 Animal Welfare Act 'duty of care' did not appear to have been met.
Although COVID-19 restrictions have led to a change in location for the latest season of 'I'm a Celebrity Get Me Out of Here!', many organisations were disappointed to learn that the show's producers did not take this opportunity to change the way animals are used in the programme.
As a response, the BVA – along with the British Veterinary Nursing Association (BVNA) and The British Veterinary Zoological Society (BVZS) – has renewed its call to producers to review the programmes treatment of animals, using the hashtag #GetAnimalsOutofThere.
BVA senior vice president Daniella Dos Santos said: "'I'm a Celebrity' has had a long and chequered track record of animals showing clear signs of distress while used in tasks and as an exotics vet, I remain very concerned about the welfare of those used in this year's series.
"The welfare of animals used on television or other media outlets should be of the highest standard as this can influence public behaviours and views on appropriate treatment of animals."