Fifth UK case of avian influenza confirmed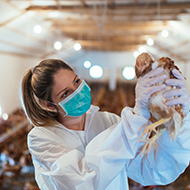 Temporary control zones have been placed around the premises.

A fifth case of avian influenza has been confirmed in poultry and captive wild birds at a premises in Leicestershire.

This latest case in captive and wild birds follows the discovery of H5N8 avian influenza in Gloucestershire, Cheshire, Herefordshire and Kent. A small number of wild birds in Gloucestershire, Devon and Dorset have also tested positive for the disease.

Temporary control zones of 3km and 10km have been placed around the premises located near Melton Mowbray. However, the pathogenicity has yet to be determined.

Earlier this month, an Avian Influenza Prevention Zone (AIPZ) was declared across the UK, meaning the bird keepers across England, Scotland and Wales now legally obliged to follow strict biosecurity measures.
On Friday (20 November), the APHA updated its biosecurity guidance and published a new self-assessment biosecurity checklist for all bird keepers.

Chief veterinary officer for the UK, Christine Middlemiss, said: "Public Health England has confirmed that the risk to public health is very low and the Food Standards Agency advises that bird flu poses a very low food safety risk for UK consumers.

"Whether you keep just a few birds or thousands, you are now legally required to meet enhanced biosecurity requirements and this is in your interests to do, to protect your birds from this highly infectious disease."