UFAW announces upcoming symposiums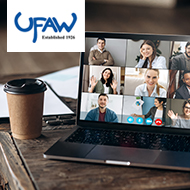 Virtual meetings follow the success of animal welfare science meeting.

An exciting programme of virtual meetings and conferences has been announced by the Universities Federation for Animal Welfare (UFAW).

The announcement follows the success of the UFAW's popular 'Recent advances in animal welfare science VII' meeting, which took place earlier this year. It also forms part of UFAW's ongoing commitment to improving animal welfare through scientific understanding.

On 3-4 November 2020, UFAW is hosting a free online symposium entitled Humanely Ending the Life of Animals in partnership with The Swiss Federal Food Safety and Veterinary Office (FSVO) and the Humane Slaughter Association (HSA).
A UFAW spokesperson said: 'The conference aims to identify, refine and implement alternative methods to CO2 for humanely ending the life of mice, rats, poultry and pigs to improve animal welfare in the laboratory, the slaughterhouse and during emergency depopulation.
'The symposium will comprise keynote lectures from an international panel of experts, including an introduction to the basic sciences underlying killing and stunning and, for the first time, presentations selected from submitted abstracts.'

On 29-30 June 2021, Recent Advances in animal welfare science VIII will take place as a free virtual event. Talk and poster-abstract submissions along with registration for the meeting are expected to open soon (submission deadline 11th January 2021).

The UFAW added that other virtual meetings and conferences are being formulated and will be announced in due course. More information about the meetings can be found on the UFAW website.