Study shows value of transverse sectioning for canine alopecia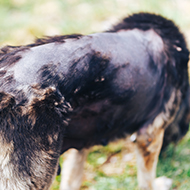 Method "can provide further diagnostic information with no additional risk for the patient".

A new study by researchers at the Royal Veterinary College (RVC) and the University of Glasgow has highlighted the value of the transverse section technique for assessing dogs with alopecia.

The study, published in the Journal of Small Animal Practice, assessed whether the technique could enhance the diagnostic benefit from skin biopsies of dogs with alopecia.

Researchers took skin biopsies from 31 dogs with alopecia suspected of having a range of atrophic, dysplastic and inflammatory diseases of the hair follicles and or adnexal glands.
The team bisected the samples vertically - with one half embedded in the traditional vertical orientation and the other sectioned transversely - before reviewing the sections independently of each other.

"As expected, the team observed substantial overlap in the principal pathological features in the 90 paired vertical and transverse sections," explained Professor Ross Bond of the RVC. "There were also numerous examples where one or other of the two sectioning planes yielded superior visualisation of key features."

Researchers added that transverse sectioning frequently complements traditional vertical sectioning when evaluating follicle diseases in dogs.

'Transverse sectioning a portion of the biopsy may be especially valuable in evaluating the phase of hair growth in the specimen and when key histopathological features, such as inflammatory processes, affect relatively small numbers of adnexa within the specimen," the team explains. "It is also of value in evaluating the number, size and arrangement of follicles within compound follicles and follicular units."

JSAP editor, Nicola Di Girolamo, concluded: "This relatively simple modification of sample processing can provide further diagnostic information with no additional risk for the patient, and as such has a relevant application in a large number of dogs."