Blue Cross reveals its Vet Nurse of the Year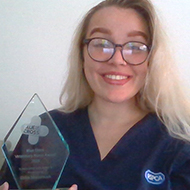 Blogger and RSPCA vet nurse awarded for dedication to animal welfare

Pet charity Blue Cross has named veterinary nurse Chloe Mackintosh as its 'Vet Nurse of the Year 2020', for her commitment to animal welfare and passion for charity work.
As well as working full-time as a veterinary nurse at RSPCA in Harmsworth, North London, Chloe Mackintosh assists in a range of fundraising activities and also runs a blog titled 'The Charity Vet Nurse'. She uses this platform to raise awareness of the profession and to encourage other veterinary nurses to consider a career in charity.
David Catlow, director of veterinary clinical services at Blue Cross said: "We are delighted to recognise the dedication and hard work Chloe puts into both her job and wider animal welfare.
"The Vet Nurse of the Year Award is to showcase those vet nurses who go above and beyond, and Chloe certainly meets this criteria. In what has been a really challenging year for all vet nurses across the UK, we congratulate Chloe on her much-deserved award."
Miss Mackintosh was presented with her award during a virtual awards ceremony, held on Saturday 10 October as part of the BVNA's This is Us event.
She said: "I was shocked to find out I had been nominated, and absolutely taken aback to find out in the same phone call I had won!
"It's such an honour to win something of this stature as the Blue Cross is a charity I admire immensely. My passion and niche is charity work and I really mean it when I say this has made my year."
Image (c) Blue Cross.