BVNA Awards winners revealed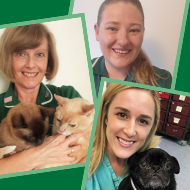 This is Us 2020 event recognises excellence in the profession

The three winners of this year's BVNA Awards were announced during a virtual awards evening held as part of the association's This is Us 2020 event, which celebrates excellence within the profession.
The awards evening was livestreamed on Saturday 10 October via the BVNA's Facebook page, and directly to delegates through Zoom.
The evening began with a keynote speech from Dr Jane Goodhall DBE, before Jo Oakden, BVNA's junior vice president, announced the award winners.
The BVNA award winners are:
St Francis Award

– for a nurse who has gone above and beyond for their team, their patients, and the profession as a whole over the past year.

Awarded to Christine Robinson.

Help in the Community Award

– for a nurse who has gone the extra mile to help animal owners and their clinical teams during the COVID-19 pandemic.

Awarded to Bethany Scott.

VNJ Writer of the Year Award

- for the author of an article written in VNJ which has inspired positive change, discussion or has improved clinical standards in practice.

Awarded to Courtney Scales.
Mrs Oakden says: ""It was fantastic to see all the worthy nominees and finalists for our new BVNA awards and Hills and Blue Cross awards.
"The high standards, dedication and resilience of our profession was demonstrated with all of our nominees and winners of the awards, showing they can adapt and overcome to be champions in our profession to help educate and inspire those within and outside of our profession.
"It was a huge honour to be able to present these awards and still keep the celebratory feel in these unusual times. A huge congratulations to all our winners."

Images (c) BVNA.