Nominations open for Blue Cross 'Vet Nurse of the Year'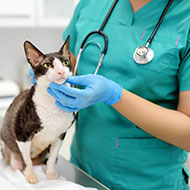 Award recognises RVNs who have gone 'above and beyond' the call of duty.
Nominations are now open for the Blue Cross 'Veterinary Nurse of the Year' award which pays recognition to the UK's veterinary nurses and the invaluable support they provide to their teams, clients and pets.

The award is bestowed to a veterinary nurse who not only cares for sick and injured pets but has also gone the extra mile to improve pet welfare in their community. It will be presented virtually to the winner during the BVNA's 'This is Us' event on Saturday 10 October.

Last year's award was won by deputy head nurse Danielle Pountain from Pool House Veterinary Hospital in Lichfield. Danielle commented: "I was overwhelmed to receive the call that I had been selected as the Blue Cross Vet Nurse of the Year.

"It felt like an unbelievable honour to have been considered worthy for an award for doing a job I love to do and I felt like being recognised for my achievements and contribution to veterinary nurses, validated all of my hard work, enthusiasm and dedication. I am grateful to everyone for giving me such a great title and award."

Anyone can make a nomination for veterinary nurse of the year, including pet owners and veterinary practices. David Catlow, Blue Cross director of veterinary clinical services, said:

"With vet practices across the UK having had to rethink how we deliver our services as a result of COVID, delivering only emergency and essential services for the duration of lockdown, it has been a particularly challenging year for the whole industry. Many vet nurses working in veterinary practice have demonstrated outstanding leadership and commitment going 'above and beyond' in these extraordinary times."

The nomination form can be found the Blue Cross website at bluecross.org.uk/BVNA2020. Nominations close on Friday, 18 September 2020.