First biosecurity report on ASF in China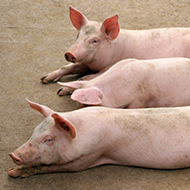 Document reveals insights into livestock management.
The first in-depth biosecurity report on African Swine Fever (ASF) in China has been published by Boehringer Ingelheim Animal Health and the Chinese Association of Animal Science and Veterinary Medicine.

Based on data submitted by 1,000 pig farms, the document shows biosecurity levels greatly improved in Chinese farms compared to the time before the ASF breakout in the country. Of the key findings, 90 per cent of respondents said they were washing their trucks with disinfectant, and 84 per cent understood the importance of drying the vehicles afterwards.

Conversely, however, the report shows there is still a big gap between large-scale groups and small backyard farms. Researchers say this shows that investment in time, resources and education pays off, and should be facilitated to reach the broader farming community.

Bonnie Qian, product manager at China Swine Marketing, said: "We now have a glimpse on different realities on the ground. This report gives us a more systematic and standardized biosecurity evaluation system, and contributes to the producers' overall understanding of the Chinese biosecurity level and the threats posed by ASF now and in the future."

Participants in the study answered 45 questions on topics such as transportation of animals, daily farm management, feed and location. Their responses were evaluated by 40 academics who classified the farms as facing either a low, medium or high risk of future ASF infections on their herds.

Of the key findings, 48 per cent of pig farms said they were not introducing pigs to minimise contagion risks. Among those still introducing new animals, at least 73 per cent said they would impose a quarantine of 30 days. Figures also show that at least 86 per cent of the farms will be running the ASF test before bringing new pigs into their herds.

"Biosecurity is still the only way to prevent our farms from being infected with ASF because it is very complex to develop a vaccine," commented Prof. Yang Hanchun, head of the Chinese Association of Animal Science and Veterinary Medicine. "For this reason, our industry does need a standardized, systematic tool to evaluate biosecurity using the same criteria. Only under these circumstances, our swine industry will recover step by step."

ASF is a contagious viral disease that affects domestic and wild pigs, for which there is still no vaccine. According to China's Ministry of Agriculture and Rural Affairs, an estimated 1.2 million pigs were culled between August 2018 and December 2019 in China in a bid to prevent its spread.