Pigs useful for testing influenza antibody treatment, study finds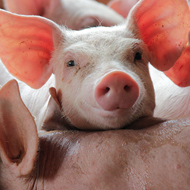 Researchers discover human antibody that can neutralise H1N1 swine flu strain.
A human antibody has been proven to protect pigs against the strain of influenza that caused the 2009 H1N1 swine flu pandemic.

The finding by researchers at The Pirbright Institute suggests that the antibody could be effective at treating human influenza infections. It also shows that pigs are a useful model for testing influenza antibody treatments.

Funded by the Bill & Melinda Gates Foundation and the Biotechnology and Biological Sciences Research Council (BBSRC), the study is published in the Journal of Immunology.

"We are very excited that the pig model is useful for testing and refining antibody treatments for life-threatening influenza infections," commented Dr Elma Tchilian, head of the Mucosal Immunology Group at Pirbright. "I hope that research into many other infectious diseases will also benefit from this model."

Given their success in treating viruses such as Ebola, the use of antibodies to protect against influenza is of great interest to scientists. But while several influenza antibodies have progressed to clinical trials, the outcome in humans has been disappointing.

The latest study found that the 2-12C human antibody can neutralise the H1N1 2009 flu pandemic virus in pigs, and therefore provide protection. Both the amount of virus and signs of infection in the lungs were reduced in pigs that received treatment.

The success of this study in pigs suggests that antibody therapies have the potential to work in humans. It builds on previous research by Pirbright, which showed that pigs are good models for influenza vaccine studies.