Japanese aquarium hosts 'face-showing festival' for eels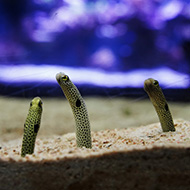 The eels have started to forget about humans during the COVID-19 pandemic.

A Japanese aquarium is hosting a 'face-showing festival' for its spotted garden eels, which have grown shy of humans during the COVID-19 pandemic.

Toyko's Sumida Aquarium was forced to close because of the crisis, but the lack of visitors appear to be having a profound effect on its underwater residents.

It says that a lack of human interaction has made it difficult for staff at the aquarium to check the health of the eels, which dive back down into the sand whenever someone walks past their tank.
It is also worried that once the aquarium reopens, the sudden flood of visitors could stress the eels out.

The aquarium tweeted: "They don't see humans, except keepers, and they have started forgetting about humans. Garden eels, in particular, disappear into the sand and hide every time the keepers pass by. Here is an urgent request - could you show your face to our garden eels from your home?"

The 'face-showing festival' is taking place 3-5 May and people are being asked to dial into one of five tablets that have been placed in front of the tank using the information available on the Aquarium's website.