Wildlife charities urge government to end badger cull in light of new figures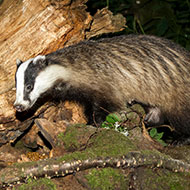 More than 35,000 badgers killed in 2019 as part of bTB strategy

Multiple wildlife charities are calling for the UK Government to scrap badger culling in the fight against bovine tuberculosis (bTB), after recent government figures revealed that more than 35,000 badgers were killed in 2019.
Earlier this month the Government announced a plan to gradually phase out badger culling in favour of vaccination, surveillance and improved cattle testing. This decision was part of the Government's response to an independent review of its 25-year bTB strategy, led by Professor Sir Charles Godfray.
Charities including the RSPCA welcomed the commitment, but in light of new figures, published on 27 March 2020, which showed that 35,034 badgers were killed as part of the Government's badger control b policy in 2019, the organisations are urging the Government to end the culls sooner rather than later.
RSPCA head of wildlife Adam Grogan said: "These appalling figures highlight the urgent need to speed up plans to tackle bTB through improved cattle herd management instead of culling.
"Many of the cull areas had their target kill figures revised due to the inaccuracy of methods used to estimate badger numbers. The RSPCA believes that this shows the initial population estimates used for the cull are ineffective and meaningless. Furthermore, many of the cull areas extended the culling period beyond the 42 days recommended by the scientific panel advising how such a cull could work."
Mr Grogan continued: "We feel that proposed improvements to cattle-based measures, along with badger vaccination, are the best solution for badgers, cattle and farmers. The badger cull has been cruel and ineffective and we have been calling for some time for an alternative strategy to control bovine TB that focuses on cattle which includes vaccination and improved testing.
"However, these latest figures just back up the calls by the RSPCA and other animal welfare organisations for Government to scrap the cull and focus on the cattle-based methods they propose in their response to the Godfray report."
A Defra spokesperson said: "Bovine TB leads to the slaughter of over 30,000 cattle every year and considerable trauma for farmers as they suffer the loss of highly prized animals and valued herds. As independent research has shown, the badger cull has led to a significant reduction in the disease, but no one wants to continue the cull of this protected species forever.
"We recently set out the next phase of our strategy to combat bTB, which includes field trials of a cattle vaccine, plans to vaccinate more badgers against the disease and improved testing to intercept bTB earlier."