Huge rise in rehoming figures for Battersea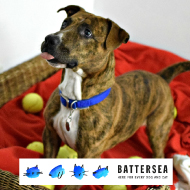 Support for rescue pets amid unprecedented times

Battersea has reported that more than 150 dogs and cats from their rehoming centres found new homes last week, despite the uncertainty caused by the COVID-19 pandemic.
Battersea called the news 'a small ray of hope' as 86 dogs and 69 cats were taken into new homes from Monday 16 – Sunday 22 March. The charity confirmed that is more than double the figures for the same week in 2019.
Rob Young, head of operations at Battersea, said: "We want to thank all these new owners for thinking of rescue pets at such a challenging time.
"All three of our Battersea centres are now closed to the public, but many of our animals are now in loving homes or out on temporary foster with our staff and volunteers. Battersea are still caring for around 100 animals at our three centres and working hard to ensure each and every dog and cat continues to get the treatment, care, love, play and interaction they need."
Smudge, a 10-year-old black and white domestic short-hair cat, was just one of the animals who left Battersea last week, after spending two weeks in the charity's care.
Another animal that found a suitable home was a four-year-old mongrel named Tulip, who came into Battersea as a stray more than three months ago. She was very anxious upon her arrival, but the teams helped her to gain confidence and she was finally adopted by a loving family last week.
Image (c) Battersea.