UK animal organisations unite to support pet owners during COVID-19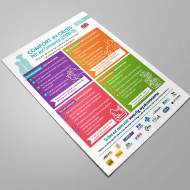 New resources help to combat misinformation around pet care

A number of UK charities and animal organisations have collaborated to produce a series of informative infographics to help pet owners care for their animals and each other during the COVID-19 pandemic.
The coalition is concerned about the spread of misinformation which causing confusing and stress amongst owners, and includes groups such as Battersea, BSAVA, Dogs Trust, Cats Protection, the Blue Cross and PDSA.
The colourful infographics offer tips and advice on how owners can protect their pets and themselves by practising good hygiene, how to look after pets whilst social distancing or self-isolating, and how to help charities and vulnerable people with pets.
Chris Laurence, chair of the Canine and Feline Sector Group (CFSG), said: "We have come together to reassure people that there is no evidence that pets can get sick from coronavirus so not to panic or worry. We have also written some clear and simple tips about how to continue to care for them through this crisis.
"Like many others, the animal welfare sector is facing huge strain, with reduced staffing, loss of volunteers and pressure on resources. We need to reassure owners with good advice so they can continue to look after their pets, and this will help prevent rescue centres being overwhelmed at this challenging time."
"Pets are a big part of our families and it is important to make sure they stay happy and healthy during these difficult times. Isolation for us can mean some big changes for our pets and they won't understand why. We hope this advice will help owners help their pets, while looking after themselves too."
Please visit the CFSG website for more information, including a full list of the organisations involved.