Insects and crustaceans 'more alike than we thought'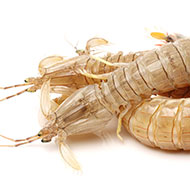 Study could aid in the understanding of brain evolution

Shrimps, lobsters and crabs have more in common with their insect cousins than previously thought, according to new research.

Scientists at the University of Arizona found that both insects and crustaceans possess mushroom-shaped brain structures, known in insects to be required for learning, memory and negotiating complex environments.

The study, published in the journal eLife, contradicts a widely-held scientific belief that these brain structures - known as "mushroom bodies" - are absent from crustacean brains. 


"The mushroom body is an incredibly ancient, fundamental brain structure," said Nicholas Strausfeld, professor of neuroscience at the University of Arizona. "When you look across the arthropods as a group, it's everywhere."

Crustaceans and insects descend from a common ancestor that lived about half a billion years ago.
Scientists believe the misunderstanding that crustaceans do not have mushroom bodies is because of a more evolutionary "modern" group of crustaceans. They say that many lobsters and crabs in this group have brain centres that do not look anything like the insect mushroom body.
While the mushroom bodies appear more diverse than those of insects, brain analysis of crustaceans revealed that their defining neuroanatomical and molecular elements are all there.
Researchers hope the study will aid in the understanding of how brains may have evolved and what environmental conditions shaped that process.