SRUC seeking dairy farmers for M. bovis study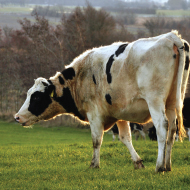 Findings will help in developing schemes to limit spread

Scientists from Scotland's Rural College (SRUC) are urging dairy farmers across the country to participate in a new study, with the aim of gaining a better understanding of the spread of Mycoplasma bovis in cattle.
Mycoplasma bovis (M. bovis) can cause several diseases in cows, including bovine respiratory disease (BRD); pneumonia; middle ear disease, resulting in a head tilt; mastitis and arthritis.
In an effort to gather more knowledge on the distribution of M. bovis in Scotland, as well an understanding of how it spreads within and between farms, the SRUC Veterinary Services team is seeking Scottish dairy farms to take part in a new year-long study.
According to SRUC, the study will consist of bulk tank milk sampling and a short questionnaire on general herd management. Farms taking part in the study will receive their own results throughout the year from their registered veterinary practice.
Project lead Jessica Ireland-Hughes, from SRUC Veterinary Services, said: "This project will be of huge benefit to the industry as we currently don't know how many farms have ongoing M. bovis-associated disease and which farms are more or less at risk.
"There is currently no national control scheme in place for this disease, and the results of this project will help develop more structured control plans to limit spread between and within herds, help manage the welfare and economic effects and reduce the reliance on antimicrobials."
The Scottish Dairy Hub will be sending a flyer containing more information to all Scottish dairy farmers in the next week. Those wishing to participate can also email mycoplasmabovis@sruc.ac.uk.