WSAVA issues new coronavirus guidance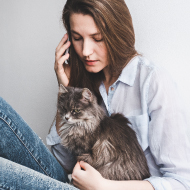 Vets urged to advise owners not to panic

Following the outbreak of the new coronavirus (2019 n-CoV) in China, the World Small Animal Veterinary Association (WSAVA) has prepared an advisory document and a set of Frequently Asked Questions to help its members when discussing the epidemic with clients.

The move comes in response to reports of animals being abandoned or killed because their owners fear they may carry the virus. Currently, there is no evidence to suggest that cats or dogs can be infected with the new coronavirus, nor is there evidence to show that pets or other animals might be a source of infection to people.
The guidance calls on veterinary surgeons to tell owners 'not to panic' but warns that the situation is 'rapidly evolving' and that information will be updated 'as it becomes available'.
"There is still much we don't know about 2019-CoV and, while the priority is to bring the outbreak of the infection caused to people under control as soon as possible, we are concerned for animal welfare with reports of animals being abandoned or killed because their owners fear that they might carry the virus," said WSAVA president Dr Shane Ryan.

"There is no evidence that this is necessary and we urge our members to ensure owners follow our guidance and keep themselves and their companion animals safe." 

WSAVA's One Health Committee chair Dr Michael Lappin recommends that veterinary surgeons advise owners to:

• keep their companion animals with them if they are self-quarantined
• keep cats inside
• arrange care for any animals left at home if family or friends are hospitalised
• contact their veterinary surgeon immediately if they have questions or concerns.

The advisory document also warns vets against using vaccines for canine enteric coronavirus, available in some global markets, in the hope they may offer some protection against 2019 n-CoV. Currently, there is no evidence that vaccinating dogs with commercial vaccines will protect against 2019 n-CoV since the viruses are distinctly different variants.