Born Free calls for closure of global wildlife markets as coronavirus spreads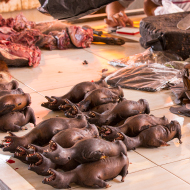 Campaign backed by wildlife protection groups

Wildlife charity Born Free is leading a campaign calling on the World Health Organisation (WHO), Office International Epizoologie (OIE) and the United Nations Environment Programme (UNEP) to encourage legislation to close wildlife markets, in response to the growing spread of coronavirus.
Coronavirus currently has over 28,000 reported cases worldwide and is believed to have originated in wildlife and been transmitted to humans through wildlife markets in the city of Wuhan.
After encouragement from prominent researchers from the Chinese Academy of Sciences, the Wuhan Institute of Virology and the nation's top universities, the Chinese government announced the closure of all wildlife markets across the country. There have been calls for these measures to be made permanent.
Backed by 75 other wildlife protection groups from across the world, including the RSPCA, Species Survival Network and World Animal Protection, Born Free has published a joint open letter to WHO, OIE and UNEP.
The letter asks these organisations to urge the world's governments to introduce and enforce legislation to close wildlife markets and to launch public awareness campaigns aimed at decreasing demand for live wild animals and products derived from them.
Referencing previous outbreaks that were thought to have spread to humans via wild animals, such as Severe Acute Respiratory Syndrome (SARS) and Ebola, the letter argues that global action to restrict wild animal trade will help to significantly reduce the risks of future infectious disease epidemics among wildlife and people, as well as address the global decline in wildlife and biodiversity.
Dr Mark Jones, head of policy at Born Free, said: "Markets selling live wild animals are found in many countries. However, rapidly growing human populations, increased access to even the most remote wildlife areas through changes in land use and infrastructure development, greater disposable income, increasing urbanisation, and the changing nature of demand, has resulted in the rapid expansion and commercialisation of such markets, increasing the risks to human and animal health."

Image (c) Born Free.