Call for transparency in policy-making decisions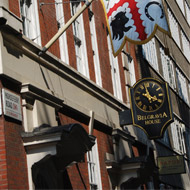 Vets sign open letter to RCVS president Niall Connell

A cohort of former RCVS Council members has called for openness and transparency around potential changes to the College's disciplinary process, noting that it would 'help allay the fears of hard-working veterinary surgeons'.

Former RCVS Council member Richard Stephenson and former RCVS President Jacqui Molyneaux were among the 11 signatories of an open letter addressed to RCVS president Niall Connell.

Standard of proof
Their call comes after a report by Vet Record (Vol 186 No 2) revealed that the RCVS is in 'advanced discussions' about lowering the standard of proof for disciplinary hearings. The motion, which is reported to have been discussed in private at last month's Council meeting, would bring the College in line with other professional regulators.

As with criminal proceedings, veterinary surgeons and nurses are only found guilty if the jury is "sure" that the evidence proves their guilt. The open letter argues that the lowering of this standard to "more likely than not" could increase the number of veterinary surgeons and nurses advancing to full disciplinary cases.

It notes: 'The news in the Vet Record of 18th January 2020 that the College is actively considering downgrading the standard of proof from the Criminal Standard to Balance of Probabilities has caused widespread concern and anguish.

'We believe that the whole profession would welcome RCVS speeding up and making its investigatory system more efficient. However, any good work could easily be undone if the number of cases referred to the DC were to be artificially increased by manipulation of the standard of proof in an effort to placate a purely speculative distrust of the system by a tiny minority of the public.'

The letter continued: 'At the current time any action that might adversely affect the mental health and well-being of the profession, let alone such a severe one, is to be approached with great caution - however complete openness and transparency would help allay the fears of hard-working veterinary surgeons.'

An emotive issue
Speaking to MRCVSonline, Richard Stephenson described the potential changing of the standard of proof as "an emotive issue," adding "it is impossible to argue that lowering the standard required can do anything other than increase the number of cases advances to full disciplinary cases."

"More vets will have to undergo the very considerable stress and anxiety of a full DC hearing," he said. "That may not be the primary objective of the RCVS, but any realistic appraisal can come to no other conclusion.
"I agree with expert employment lawyer Belinda Lester: 'If this change happens you are going to get more vets being found guilty of misconduct'. Thus it is VITAL that this matter is debated in the daylight and that there are no discussions in 'smoke-filled rooms'."

He continued: "The Nolan principles require complete openness and transparency in decision making by public bodies - for a very good reason. Failure to be fully open and transparent results in conspiracy theories, alarm, lack of trust and ultimately loss of confidence.
"It also has another insidious effect - it prevents members of Council engaging with the membership on important issues - thus the 'two way' feedback is lost, Council becomes remote and is seen as remote".

RCVS response
In its response to the open letter, RCVS president Niall Connell said: "Council has asked for a review of past cases so it can reflect on how changing the standard of proof might affect caseload. Until this is complete, no one can say with any degree of certainty whether the number of cases referred to the DC would also change.

"If this number were to increase, naturally council would also consider what additional staff resourcing might be necessary to help minimise case investigation times and reduce the stress experienced by individuals about whom a concern has been raised."
He continued: "Council members remain mindful of their professional responsibility to practise within their area of professional competence. To this end, we seek the advice of leading counsel on the limits or otherwise of our existing statutory and Charter powers.
"When council returns to discuss this matter in open session later this year, I fully expect, indeed hope, that there will be a full exchange of strongly held and contrasting opinions, before any consensus is reached."
Openness and transparency
This is not the first time that the RCVS has been accused of 'bunker behaviour'. Last year, concerns were raised after a debate on the future of telemedicine was held 'in committee' rather than in an open forum.
In its response, the RCVS confirmed that the session had been held in private to examine confidential legal advice.

To read the full open letter to the president of the RCVS, please click here.