Born Free launches appeal for ex-circus lioness in Italy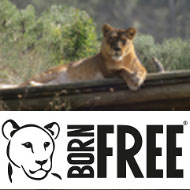 Charity asks for support to provide lifetime care

International wildlife charity Born Free has announced a new appeal called Elsa Italia, with the aim of providing lifetime care for an ex-circus lioness in Italy.
The lioness, named Elsa, was forced to perform with a travelling circus in Sardinia for a number of years. She lived in extremely poor conditions, and was kept in a small cage in a concrete car park.
In 2014, Born Free worked with Italian animal organisation Lega Anti Vivisezione (LAV) to remove Elsa from the circus. As a temporary measure, she was placed in a wildlife sanctuary in northern Italy.
Finally, a breakthrough in the ongoing court case came in 2018, which meant Elsa was permitted to be removed from the terms of the case and could finally be permanently rehomed.
Born Free's original plan was to move Elsa to its big cat sanctuary in Shamwari Private Game Reserve in South Africa. However, visits and discussions with staff at the Italian sanctuary revealed that Elsa was content where she was and the decision was made for her to remain in Italy.
Maggie Balaskas, Born Free's animal rescue and care manager explains: "It's clear that she is thriving at the sanctuary in Italy and we believe she will be happiest remaining where she is. Last year Elsa was introduced to a male lion called Madiba, who she had being living alongside for a number of years. Madiba was also rescued from inadequate captive conditions and part of a different court case. The two have become great companions for each other."
Born Free is asking for support to continue to provide a safe home and ongoing care for the lioness. The charity estimates this will cost around €12,000 a year.
More information can be found on the Born Free website.
Image (c) Born Free.