Equine inhaler receives marketing authorisation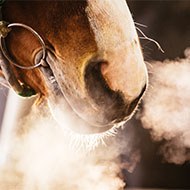 Aservo Equihaler® will be available for EU distribution in 2020

A novel equine inhaler set to benefit horses suffering from severe equine asthma has been granted marketing approval by the European Commission.

Marking an industry-first in equine medicine, the Aservo Equihaler® is the culmination of more than a decade of collaboration between Boehringer Ingelheim's human pharma and animal health R&D groups. It is expected to be available for veterinary surgeons in the EU in 2020.

The inhaler incorporates a unique Soft Mist Technology®, found in the human Respimat® inhaler. This allows the active ingredient - ciclesonide - to be inhaled deep into the lung, thereby reducing the risk of lower airway inflammation.
Designed specifically for horses, the inhaler also features an ergonomic handle, dosing lever for ease of handling and a nostril adaptor that fits inside the nostril of the horse to allow for easy inhalation.
Erich Schoett, global business head of equine for the Boehringer Ingelheim Animal Health Business Unit, said: "Treating severe equine asthma can be challenging for veterinarians and horse owners, who struggle to find safe and effective ways to help horses breathe.

"Bringing a new, safe and effective treatment to the market is something that we can really be proud of. It is a strong indicator of the commitment that Boehringer Ingelheim has to the health and welfare of horses, and to the investment that we make into continuing to advance therapies through collaboration and innovation."