Voting opens for BVA regional representatives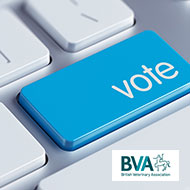 Members encouraged to vote to have their voice heard

The British Veterinary Association (BVA) has announced that voting is now open for three new regional representatives to represent the views of veterinary surgeons in their area to BVA's council.
There are two candidates in the East Midlands, West Midlands and Wales respectively. Members in these areas are encouraged to vote for their preferred candidate to serve on Council for a three-year term.
Regional representatives provide vital insight in the activities of the Council. Representing members views on matters of veterinary policy and informing BVA's Policy Committee.
BVA president Daniella Dos Santos said: "With an increasingly complex veterinary landscape, and wide range of issues and potential outcomes for animal health and welfare and the veterinary profession it's essential that members have the best person to represent them at the highest level within BVA. I'd encourage everyone who's eligible to vote to take this opportunity to elect someone who can be a strong voice for vets in their region."
Voting closes at 5pm on 17 February and the results will be announced on 19 February. Candidate biographies and voting instructions are available on BVA's website.