Bristol Vet School seeks prospective dog owners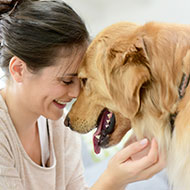 Study to explore dog ownership as an overall journey
Researchers at Bristol Veterinary School are seeking prospective dog owners for the first in-depth study into the special relationship between dogs and their owners.

Members of the Animal Behaviour and Welfare Group would like to hear from people thinking about getting a dog, or those thinking about adding another dog to their family, between now and August 2020.

The UK Dog Project will follow the owners and their dogs over several years, from before getting a dog and then throughout the dog's life, to learn what affects people's decisions to get a dog and how the dog-owner relationship develops.

Researchers say the overall aim of the study is to better understand these relationships and the factors that affect them.

"This is an exciting new study that promises to tell us much more about the lives of dogs and their new owners," explained Nicola Rooney, lecturer and research group supervisor. "We are extremely keen to get as many people involved as possible, so if you, or anyone you know, have any thoughts of getting a new dog, please do fill in the questionnaire."

If you or someone you know is thinking about getting a dog and would like to take part in this study, please visit the UK Dog Project questionnaire.