Kitten named top Pet Survivor after suffering horrendous injuries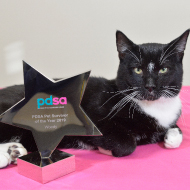 PDSA announce Pet Survivor of the Year 2019

A kitten that recovered from several horrific injuries including a severed tail and ripped abdomen has been named Pet Survivor of the Year 2019 by charity PDSA.
Woody joined the Wood family from Battle, East Sussex last year, and became a vital companion for owner Stephanie's son, who has autism. One July evening, at five months old, Woody went missing for several hours. When he returned home his owners discovered he had sustained life-threatening injuries.
Most of Woody's tail was missing, but the stump wasn't bleeding. He also had a deep cut on his abdomen and his owners were terrified when they realised that they could see his insides. Woody was immediately rushed to a local veterinary practice for treatment.
The kitten needed more than three hours of emergency surgery to amputate the remainder of his tail, stitch up his stomach and remove a toe due to a paw injury. The loss of his posed a risk of incontinence or paralysis, which could have led to euthanasia.
The family were relieved when they received a call to say that the surgery was a success and Woody had urinated by himself. But were told that some of Woody's injuries suggested he had been attacked by a human
Woody stayed in intensive care for eight days before being allowed to go home. He was kept on strict cage rest and cared for by his owners. The kitten needed further surgery to treat an infection, but thanks to the skill of the veterinary teams, his owner's devotion and months of recovery he is now back to his playful self.
Woody's story reached the top of the public vote held by PDSA, and he received a trophy and luxury pet hamper.
PDSA veterinary nurse Louise Chapman, who presented Woody with his prize said the kitten is "a true pet survivor and a worthy winner indeed."
Images (c) PDSA