Boehringer launches new purification technology for Ingelvac CircoFLEX®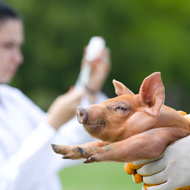 Vaccine to be launched in all EU countries in January 2020
Pharmaceutical firm Boehringer Ingelheim has announced a new and proprietary purification process for its swine vaccine, Ingelvac CircoFLEX®.

Ingelvac CircoFLEX® was the first PCV2 (porcine circovirus type 2) that could be mixed with an M hyo vaccine to address two critical swine pathogens in a single dose. Considered to be the most revolutionary PCV2 vaccines on the market, it provides effective control of circovirus-associated disease in pigs aged three weeks and older.

The new diafiltration process, named DiaTEC, removes residual cell media components from the virus-like particles (VLPs) to obtain highly immunogenic and non-virucidal vaccine.

A press release reads: "With DiaTEC, a new and proprietary diafiltration technology, Ingelvac CircoFLEX® becomes the first and only non-virucidal PCV2 vaccine for improved capabilities to be freshly mixed on farm."

Eva Joras, global brand manager at Boehringer Ingelheim, said: "I am really proud that we continuously invest in our research and development to further improve our leading products to address our customers' needs."

Ingelvac CircoFLEX®, manufactured with the new technology, will be launched in several different packaging sizes in all EU countries in January 2020.