Annual stocktake gets underway at London Zoo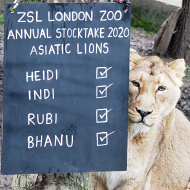 Keepers counting everything from endangered lions to ant colonies

Keepers at ZSL London Zoo have begun the challenging task of counting animals for the zoo's annual stocktake.

On Tuesday (2 January), zookeepers began counting every reptile, fish, bird, mammal and invertebrate in their care - adding up everything from Bactrian camels and critically-endangered Asiatic lions to a population of four big-headed turtles.

The annual audit is a requirement of London Zoo's licence and takes around a week to complete. The results are then shared with the international zoo community to inform global breeding programmes for endangered animals.

"It's the time of year where so many of us are taking stock and looking forward and here at ZSL London Zoo we're doing exactly the same," said Teague Stubbington, assistant curator of mammals.

"ZSL London Zoo is home to more than 580 species, from endangered Asiatic lions to critically endangered Chinese giant salamanders, and we're working not only here in the zoo to increase their numbers, but on conservation projects around the world too."

Some of the latest arrivals to the zoo include Elio the two-toed sloth and star the tamandua. The zoo also recently rescued four Chinese giant salamanders from the illegal wildlife trade, all of which will be included in the census.

While the task is relatively simple for some of the keepers, others will need to come up with more imaginative tactics to ensure every resident is accounted for. Members of the B.U.G.S team, for example, are counting ant colonies as one, instead of tracking hundreds of individuals.

Once the results are gathered, they will be shared via Species 360 - a not-for-profit organisation that provides the world standard in zoological data collection with more than 1000 member zoos and aquariums.
Image (C) ZSL Lodnon.