Labrador gives birth to 13 puppies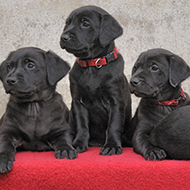 Litter thought to be one of the largest ever for the breed

A black Labrador has given birth to what is believed to be one of the largest ever litters recorded for the breed.
When Beau was five weeks pregnant with her puppies, the veterinary surgeon anticipated that she might give birth to around five or six puppies. But it came as quite a shock to Beau's owner, dog breeder Leah Barrett, when she ended up delivering 13!

According to The Independent, the litter is just two short of the record thought to have been set by a Scottish black Labrador in 2014.
Ms Barrett commented: "The vet told us it would take about an hour for each puppy to be born. We thought there could be up to eight, so roughly calculated eight-hour labour. But after seven were born in just 40 minutes, we were absolutely gobsmacked. They were just flying out."
While Beau was giving birth her placenta came loose, trapping one of the puppies in the birth canal. It took Leah and her sister around 40 minutes to deliver the puppy, but when he arrived he wasn't breathing or moving.
Thankfully, Ms Barrett had done her research on the subject and used special equipment to suck the fluid out of the puppies lungs. "We were all panicking, we thought we had lost her. It took about 10 to 15 minutes to get her breathing," she said.
Leah told The Independent that she has been getting up in the middle of the night to feed the puppies, as Beau only has teats for 10 of the puppies. 

She added that delivering the litter - which consists of seven boys and six girls - was one of the "most beautiful" things she has ever done.